The Olympic Legacy is an international project bringing together youth and public organisations in the UK, Brazil and Hungary to build on the legacy of the Olympic Games. This project will collect & share non-formal youth education developed through the Olympic games legacies and will build on the commitment of host country government, to ensure the Olympic games brings benefits to young people (particularly those with fewer opportunities).
Countries have been chosen:
UK: The 2012 Olympic Games were held in London and there has been some amazing legacy youth education projects developed as a result of the games. We are sharing these successes with youth organisations in Brazil and Hungary in the hope that partners can capitalise on these programmes and the benefits can be multiplied and reproduced.
Brazil: The 2016 Olympic Games will be held in Rio. We are offering young people from the UK and Hungary the opportunity to join local young people from be Games Makers, to share in this phenomenal international experience in a participative way as well as developing their own trilateral sports education programme which can be rolled out to youth organisations when the Olympic waves sweeps Brazil in the Summer of 2016.
Hungary: Excitingly Győr will be the host of the European Youth Olympic Festival (EYOF) in 2017 and Budapest organizes the FINA World Championships in the same year. We will arrange the evaluation meeting to coincide with this activity. The Hungarian capital is also one of the candidate cities of the 2024 summer Olympic Games. Polgár Foundation is committed to contribute to the creation of a lasting social legacy of these sport events by providing opportunities for young people with fewer opportunities.
In each of the three countries represented, there will be a local NGO/sport partners, experienced in the field of education through sports and we will also engage with local government departments responsible for education or sport. We have selected these partners to be able to build local projects with the support and infrastructure form the local authorities in order to ensure that the programmes created through Olympic Legacy can have longevity after the project's end.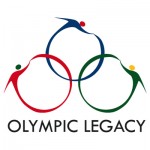 The Logo
The logo has been created by Vanie Lopes (Fundação Gol de Letra – BRAZIL)